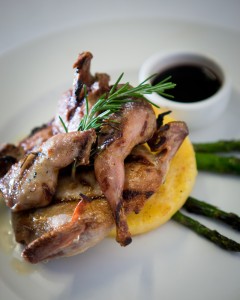 With an extensive menu comprising of modern Australian cuisine with an Italian flare, and multi award winning wines to match, the warmly 'old school' touch to dishes allows one to step back in time and truly remember what great food once was really all about. The menu at Avanti also allows for all dietary measures including many vegetarian options as well as the ability to offer 90% of its menu with those coeliac tolerant.
Specialising in not just fine A La Carte dining, Avanti at Witchmount can also assist with personalised set/table d'hote menus for all small functions, christenings, baptisms, conformations, family reunions, birthdays, work break-ups/functions etc the list is endless. Through providing you and your guests with a unique and tailored menu to suit the needs and wants of you and your guests, your menu will be one of the talking points long after the day is over.
Why not dine with a difference? At Avanti at Witchmount, we are also able to prepare tasting platters of our entrees, main courses and desserts. Whether for a light meal with friends or family, or to dine to impress, our Assaggio platters are definitely one to try and taste a wide sample of our fare.